ZLV Neo
For ultra fine fresh air distribution across a large distribution radius, even at minimal air flow rate. ZLV Neo has been developed for equal pressure ventilation and negative pressure ventilation as well as for compact stable buildings (so-called mono-blocks).
The wave structure in the nozzle ensures the optimum fresh air control even with a minimal opening. This system can also be employed with equal pressure systems (additional fresh air fan required) where the discharge stables have large openings and in areas where leaks and wind influence come into play.
Optimal for temperatures down to -20 C/-4 F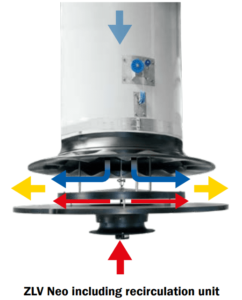 ZLV Vario
Conventional recirculation systems are driven with a fixed area ratio setting between the fresh air and recirculating air. This results in a significant portion of the fan capacity (up to 50%) being guided via the permanently open recirculation gap even with summer ventilation.
ZLV Vario's sliding fan module makes it possible to variably adjust the recirculation gap. The advantage of this is that 100% of the fan capacity is available as fresh air capacity during summer operation. This means that the number of fresh air ducts required can be halved through the use of the ZLV-Vario.
Optimal for temperatures down to -50 C/-58 F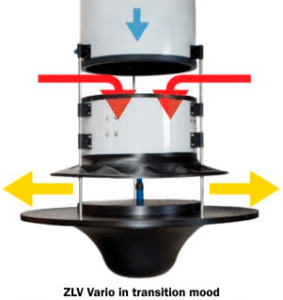 Advantages/Benefits:
Flexible system for every type of stable and livestock
Available in diameters of 65 cm, 73 cm, 82 cm, and 92 cm (25.5″, 29″, 32″, 36″)
Ultra-fine fresh air distribution across a large distribution radius, also with minimal air flow rates
Danger of ice formation also at extreme outside temperatures considerably reduced
Complete closing of the recirculation gap which increases maximum fresh air capacity
Winter, transitional and summer operation can switch automatically (centralized or decentralized)