The Barku Pad Cooling System can be used for many different cooling purposes in all types of greenhouses. The heat energy required for evaporation is obtained directly from the ambient air. The air coming out of the pads is cooled and moistened at the same time: a completely natural cooling effect. All parts are manufactured by BARKU, the components are made entirely of plastic and are characterized by the following features:
rot-resistant
UV light resistant
easy to clean
easy installation
sealed unit – no water leakage
The new infinitely adjustable deflector spreads the water evenly across the whole Pad.
The deflector shape specially developed by BARKU guarantees an extremely even distribution of water across the whole length of the Pad system.
Connecting multiple deflectors is done through watertight connectors without the need for tools. By adjusting the deflector, the desired water quantity can be controlled very accurately.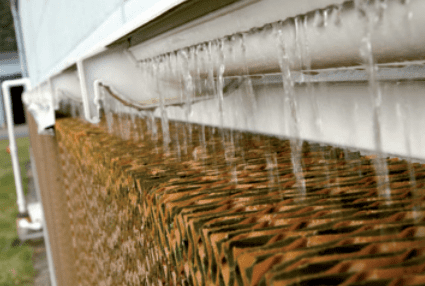 The newly developed supply unit is the main part of the BARKU Pad Climate System. The supply unit is installed at the beginning of the assembly process. It can be attached at the middle as well as at the end of the Pad system and comes with all required connectors.
No corrosion – all parts are made of uv-resistant PVC; brackets and screws are made of stainless steel.
The water gutter contains all the water the system needs. No external water tank is required.
Ideal water distribution across the whole pad length (because of the special deflector shape).
Quick and easy installation.
The components are completely watertight.
Water quantity and distribution can be adjusted by infinitely turning the deflector.
Available for Pad thickness in 4 or 6 inches.
Well designed and highly stable system components allow for long lasting and trouble free operation.
Construction flexible in height up to 8′ and length up to 78′.